Things every Guy should have in his Bathroom
I know we figure a plunger,  toothbrush holder, and toilet paper, but there really are a lot of things that go into having a nice bathroom. And let's not forget we want to be comfortable in there don't we? Well here's some things to help you not only impress but to also get your King on while you are in the throne room!
Nice Towels.
Don't go for the Dollar store thin towels go splurge at a Neiman Marcus or somewhere else that specializes in these things. You will thank me later. You can even look online and see if you can get personalized towels with your initials or business name. I always prefer to go custom.
Plush Floor Rug.
Look don't throw your towels on the floor to avoid getting it wet. This is not a huge expense. It makes the room look nicer and you don't have to worry about slipping and breaking your neck when u get out the shower.
A Nice Shower Head
When you know better you do better. Look, I know you may be thinking hey, "It's all water coming out the same." It actually isn't. Go purchase a shower head preferably the one with two heads and you will see the difference. Trust me Do it, Just do it!
Purchase the Aquagenix® Slimline Three Way 8″ Rainfall Showerhead and Handheld Shower System for $49.99
Bathroom candle
I don't think this one needs to be explained, but you know what you don't want your bathroom smelling like right? Well get one of these and whenever you have guests or you just don't want to smell whatever happened in there last.
The towel warmer
Yes this is a luxury item – but once you've tried one, The lady in your life will really appreciate it! Trust me you won't know what you were doing before this.  This Brookstone model is big enough to warm two towels at once (or one towel and a bathrobe).
Magnifying Mirror
You know when you need to get those unwanted hairs out your face, or check for cuts? Well here you go This will allow you the best view and it's dual sided so it has regular and magnifying no reason to look crazy with one of these.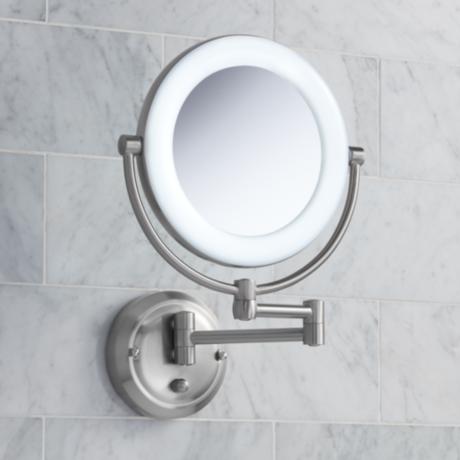 Bluetooh  Speaker
They make these waterproof for the shower they also have regular Bluetooth speakers you can purchase that give you mobility outside of the shower but work great in the bathroom. It's your call if you want it in the shower with you. But hey get that shower playlist going so you can enjoy.
Shower Curtain/Liner
Look man, you can't have one without the other. You must have both. So get one that matches preferably your towels and bath mat and you are good, Take a woman with you if you need help. And a plastic curtain is a no go! Get something more sophisticated.
The Bath Robe
You've got to have the Robe, and hang it up in your bathroom, it smells of sophistication and relaxation. It can be the design or color of your choosing but it's a great item to have in there.
Shelves or Cabinets.
This helps with organization and aesthetics.
Counter-top accessories
You want to look put together? This will help, It also makes it easier to keep clean and store stuff so your toothbrush doesn't fall on the floor, or your paper tissue box start to look all dingy and bent our of shape. and your soap stays clean looking.
 Storage Jars
Open box of Q-tips sitting on his bathroom counter? C'mon Son!!!
Related